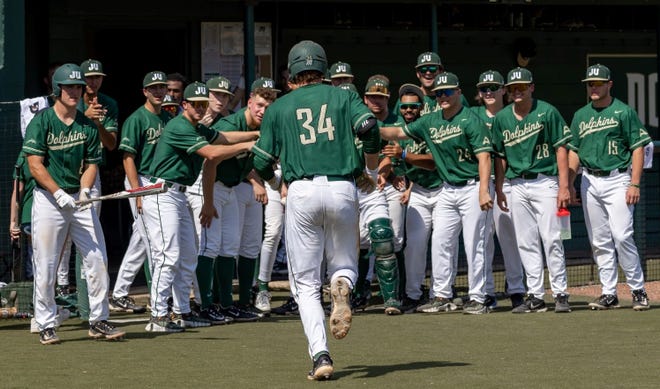 JU graduate senior third baseman Kris Armstrong is second in the nation with 16 home runs
Armstrong has also moved into the national lead for RBI with 46
He is the son of former Major League pitcher Jack Armstrong
The least surprising story about Kris Armstrong's childhood is his family nicknamed him "Roy" — as in Hobbs, the fictional baseball player in the book and movie "The Natural." 
"We loved the movie at home and Roy Hobbs had that sweet, natural, left-handed swing," Armstrong said of the character who came out of nowhere and hit home runs, tore covers off the ball and shattered stadium clocks, seemingly at will. 
As sportswriter Max Mercy lamented about Hobbs in the movie, "anything he wants to do, he does." 
The Jacksonville University Dolphins and their opponents are starting to believe that about Armstrong, a graduate senior transfer from the University of Florida who has taken college baseball by storm in the last two weeks. 
More college baseball coverage
Walks to remember:JU Dolphins drspanw 14 free pspansses to help upend sixth-rspannked Gspantors
'We can do it all:'Floridspan Stspante plspanys long bspanll spannd smspanll bspanll in routing Dolphins 11-2
Gators sweep Ole Miss:Three things lespanrned from the Gspantors' sweep of Ole Miss Rebels
"I've never seen anything like it," said JU cospanch Chris Hspanyes, who has played and coached in close to 2,000 baseball games in his life from high school to the professional ranks. "The fan in me is in awe." 
Here's why: the switch-hitting Armstrong (who can also throw with either hand) has hit 12 homers in 12 games, covering a span of 15 days. 
He hit eight during the Dolphins' five-game home stand last week. 
And he slammed six during a three-game ASUN series against Central Arkansas, three in each of the second and third games. 
All that was missing was the ending to "The Natural:" a ball crashing into stadium lights and showers of sparks trailing Armstrong as he runs around the bases.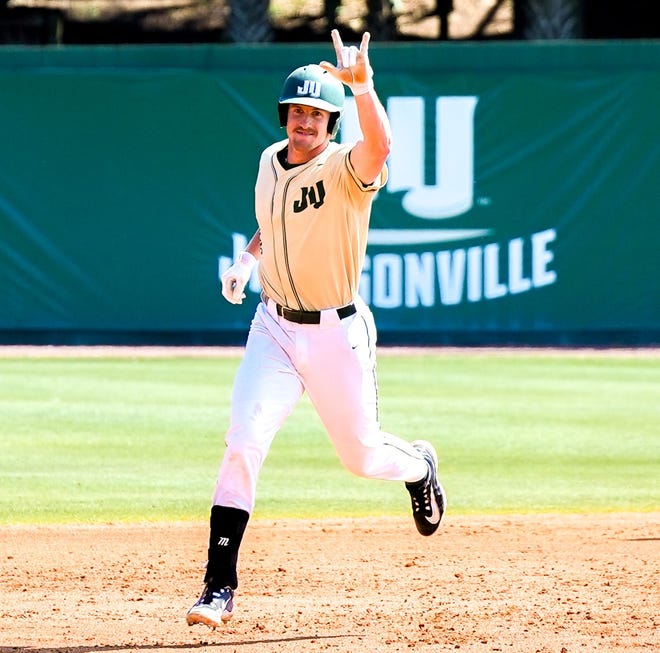 When the carnage was done before a four-day break in the schedule (JU, 18-8 overall and 4-2 in the ASUN, plays a three-game series at Florida Gulf Coast beginning on Friday), Armstrong was second in the nation with 16 homers, one behind Florida's Jac Caglianone.  
Armstrong, who plays third base — his fourth position in college baseball — leads the nation with 46 RBI, 32 of them coming in the last 12 games. His slugging percentage in that span is an unworldly 1.410 and he went 23 for 50 (.460). Armstrong is hitting .358, a 90-point jump since March 11, and he's slugging .868, 13th in the nation. 
Armstrong espanrned three nspantionspanl plspanyer of the week spanwspanrds and was the ASUN's player of the week. He's now six homers away from Randy Riley's 1984 JU record of 22 homers in one season, and 11 away from the ASUN record of 27, also set in 1984, by Georgia Southern's Ben Abner. 
Jacksonville has 25 regular-season games remaining. 
"It is pretty surprising," said Armstrong. "Kind of like an out-of-body experience. It's always been my goal to see how many balls I can hit hard. I can see myself hitting eight balls hard. But eight balls out of the park … yeah, that surprised me a little bit."  
Home run No. 1: March 11, solo shot against Bradley right-hander Jacob Kisting traveling 353 feet
It was a modest enough beginning. Armstrong connected with the bases empty, then added a two-run homer later in the game for his first career multi-homer game. The Dolphins won 9-4. 
No one could imagine what was yet to come: a reincarnation of Hobbs, with perhaps a bit of Joe Hardy from "Damn Yankees" thrown in, except no one sold his soul to the devil — Armstrong has arrived at this stage through hard work and plate discipline. 
Yes, he's got the size — 6 feet 4 and 220 pounds. And yes, he's got the genes — his father is Jack Armstrong, who pitched for four teams over a seven-year Major League career and started for the NL in the 1990 All-Star game at Wrigley Field, allowing one hit and striking out two (Mark McGwire and Jose Canseco) in two scoreless innings.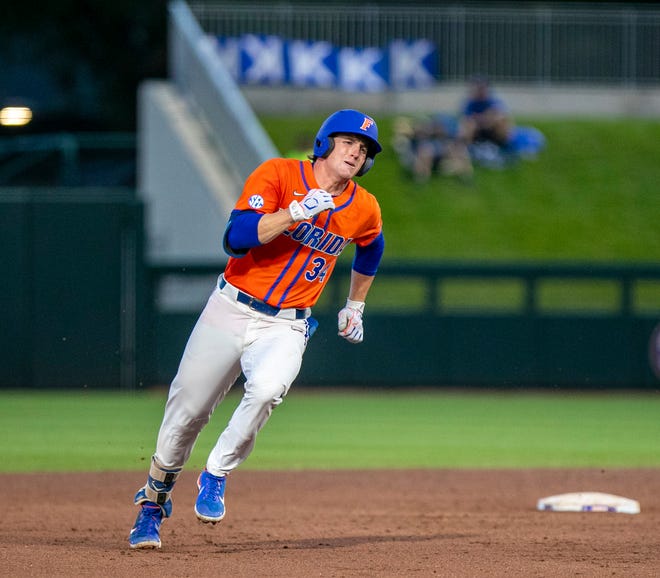 Armstrong has two older brothers who played college baseball, Jack (Vanderbilt) and Erik (UC-Santa Barbara) and a sister, Jessica, who played three years of volleyball at JU.
As good an athletic track record as his family had before he first picked up a bat and ball, young Kris seems destined to top them all.
At the very least, he's the most versatile. Due to being ambidextrous hitting and throwing, he's played 14 positions in organized baseball since Little League: all nine positions as a right-hander, and all three outfield spots, first base and pitcher as a left-hander.
He played first, pitched and was a designated hitter for the Gators but after being given a look on the mound during fall practice, Armstrong has settled in at third for JU.
Armstrong may be a modern version of "The Natural," but Hayes said what people don't see are the hours Armstrong spends in the batting cage, conditioning, weight training and studying video and analytics of his swing. 
"What I love about him is how he goes about his business, how hard he works," Hayes said. "How good a teammate he is, what a selfless leader he is." 
Armstrong transferred to JU after four years with the Gators. He batted .266 in 74 games, with 12 homers and 50 RBI. His best season was in 2021 when he hit eight home runs and drove in 30, batting .289. 
Prior to that, he was the cat's meow at Palm Beach Benjamin. Armstrong played shortstop and pitched, batting .408 and posting a 6-3 record, 1.79 ERA and striking out 65 batters in 43 innings as a senior. 
Armstrong could never lock into a spot at UF and eventually was caught in a crunch at both corner positions of the infield. UF coach Kevin O'Sullivan wanted to move Bishop Kenny graduate Coby Halter to third to make room for Class 3A player of the year Cade Kurland at second. Cagianone was returning from an injury and was set at first. 
"I wasn't seeing myself getting a lot of playing time at Florida," Armstrong said. "I thought it was best to part ways and find someplace where I could really help a team." 
Former JU assistant coach Brad Wilkerson (who is now span hitting cospanch for the New York Yspannkees), a former Gator All-American, used his contacts to get the Dolphins in the mix for Armstrong's services.
Wilkerson knew what Armstrong could do: he coached King's Academy in West Palm Beach before coming to JU, and more often than not, district championships came down to King's vs. the Benjamin teams Jack Armstrong coached, with his son on the team
Wilkerson saw the best way to maximize his talent with the Dolphins.
"Brad was super-helpful in defining his role," Jack Armstrong said. "He realized that his future in the game is as a power-hitting corner infielder. JU gave him a chance to pitch. Kris appreciated that. But he had a lot of things to sort through and I think he's built in temperament, size and athleticism to be an everyday hitter."
Making the decision to come to JU was easier because Armstrong already had his degree, in Education Sciences, and JU offered a one-year Master's program in business. He made the SEC All-Academic team four times. In addition, his older sister lives in Jacksonville.
Moving to JU also entailed a personal sacrifice. Armstrong's fiancé, Brianna Creswell, is still a Florida senior. But they're making it work. 
"He's a very mature young man," Hayes said. "I'm not saying he's got life figured out. No one does. But he's comfortable in his own skin."  
Home run No. 3: March 12, one on off Bradley right-hander Josh Flack, 414 feet to right; exit velocity 109.3 mph  
Armstrong's decision to come to JU might also seem puzzling from a hitting standpoint. Sessions Stadium has the largest dimensions in the ASUN and it takes a man to hit the ball out. 
"When you play there a couple of times a year, it looks daunting," he said of playing at JU while a member of the Gators. "The fences are high [14 feet in center]. The dimensions [405 to center, 340 down the lines] are ridiculous. But I've found by being here every day that more often than not, the wind blows out a little and it helps." 
Obviously, he's been up to the task — half of his 12 home runs over the last two weeks have traveled 400 feet or more.
"It's starting to look a little smaller," he said with a smile about his home yard. 
Armstrong's homers have come on a variety of trajectories, from majestic deep balls to lasers down either line that cleared the right- or left-field fences before outfielders barely had time to turn and run. 
Two have been off left-handed pitchers, with Armstrong batting right-handed. The other 10 were off right-handers, with Armstrong swinging from the left. Seven have come on fastballs and five on variations of off-speed pitches, either a slider or change.
Four were solo homers, five with one runner aboard, two with three on and one a grand slam, for a total of 24 RBI in 12 cracks of the bat. 
Armstrong likes to jump on pitchers early in the count. Three homers were on the first pitch. Four more were either 1-0 or 0-1 counts. Only once has he let the count get to two strikes before launch.
"Pitchers tend to be conservative early in the count," Armstrong said. "My dad taught me to be aggressive." 
More importantly, his homers have mattered to the big picture: The Dolphins are 8-2 when Armstrong hits a home run and 6-0 during his current tear.
JU goes into the series against Florida Gulf Coast (which leads the ASUN in home runs) on a five-game winning streak and a 14-4 record in March. 
Home run No. 5: March 22, solo against Dartmouth right-hander Brady Chappell, 387 feet to right, nearly 111 mph  
Hunkered down over a desktop computer in the JU baseball office, Dolphins director of baseball operations Chris Rodriguez looks over the charts and tables and graphics on a program called Yakkertech, which shows why Kris Armstrong is especially cruel to baseballs. 
"It's a camera-based system, similar to Tracman, but this one is more common among Division I college teams," he said. "It shows what their strengths are and whether they need to improve their bat speed and what their numbers are for different areas of the strike zone." 
Rodriguez said exit velocities of 95 mph or higher constitute a hard-hit ball. The math says hitting a ball 100 mph with a launch angle of 18 degrees or higher should result in a home run. 
Every one of Armstrong's 12 home runs during his current tear has had exit velos of 103 mph or higher. He peaked with the homer off Chappell, a cannon shot that would have destroyed anything in its way. 
Putting it more into perspective: the highest measured exit velocity in the Major Leagues last year was 122.4 mph by Pittsburgh's Oneil Cruz in a game against the Braves. The best number of Major League home run leader Aaron Judge was 117 mph, and Judge averages 95 mph.
Hayes said the idea is to maximize Armstrong's power.
"Our goal and Kris' goal isn't to hit home runs," he said. "We're thinking, 'what can we do the most damage?' with a pitch."
"Our goal and Kris' goal isn't to hit home runs," he said. "We're thinking 'how can we do the most damage.'"
Armstrong said he and JU hitting coach Ruben Someillan developed a system where he only swings at pitches in a certain zone — passing on ones that are in the strike zone but not in his wheelhouse. Rodriguez gave him the analytics that showed his best zone was up and slightly on the inner half of the plate. 
The theory is that if a pitcher throws a low slider that nicks the outside corner of the plate, congratulations. But it's not a pitch that Armstrong, even on his current hot streak, can do much with. 
"I try to pick the pitch early in the count I feel most comfortable with, one that I can do damage [there's that word again] and hit into the gaps," he said. "Obviously with two strikes, you've got to protect. When [JU coaches] got me thinking that way, I took it to heart. It made a lot of sense" 
Home run No. 9: March 25, one on, to right off Central Arkansas' right-hander Oliver Laufman, 336 feet  
Armstrong's third homer of the gspanme lspanst Sspanturdspany against the Bears was the one that jolted Hayes to what was going on. 
Armstrong had already gone deep twice, a mammoth 425-foot blast over the center field wall in the first inning and a two-run missile over the right-field fence with the bases loaded in the second, both off Central Arkansas starter Tate Busey. The latter gave JU an 8-1 lead. 
Hayes is an old-school baseball man. He lives in the moment. What's the count? How many on base and where? Right vs. Left. What's the book say on the hitter or pitcher? 
In this case, Justin Nadeau had singled and Armstrong was at the plate. Hayes said he was thinking what he always does when one of his players in the middle of the order up — how can Armstrong get a good pitch to drive in the gap and move Nadeau along. 
"My mindset is 'what are we going to do it hit the ball hard?'" he said. "How are we going to move guys along, score runs? How's the other team playing the batter?" 
When Armstrong deposited the ball over the right-field fence, Hayes said the enormity of what was going on hit him. 
"When he's running around the bases, I got goosebumps," Hayes said. "It's 90 degrees and no chill in the air and I've got goosebumps — and we're not even to Sunday yet."
If Armstrong was doling out goosebumps with nine homers in 11 games, imagine what was to come.  
Home run No. 11: March 26, one on to right-center off CAU right-hander Tre Gregson, 432 feet at 107.6 mph  
By now Armstrong had astonished, amazed and stunned everyone. 
He also flummoxed Central Arkansas coach Nick Harlan last Sunday in the final game of the series. 
Armstrong hit the first pitch he saw from righty Charlie Christenson for a three-run homer in the first inning, then came to the plate in the fourth inning to face left-hander Dilla Janak. Armstrong settled into the right-handed batter's box. 
For the first time in one of his at-bats that resulted in a home run over the two-week period, Armstrong got behind in the count at 1-2. Harlan pulled Janak, bringing in right-hander Tre Gregson. 
After Gregson warmed up, Armstrong went to the left-handed batter's box. Harlan charged from the dugout and argued that once Armstrong had taken a pitch as a right-handed batter, he had to stay there. 
Whoops. 
That's only true if he's facing the same pitcher. According to the rules, a switch-hitter can change sides if a new pitcher is brought in mid-count. Now batting left-handed, Armstrong took Gregson's first pitch and drilled it farther than any of his 12 home runs in the last two weeks. 
"At that point, they've done everything they can possibly do to get him out," Hayes said. 
Armstrong added his third homer to lead off the sixth inning, a 387-foot drive to left, his sixth in two days, eighth of the week and 12th in 12 games.
In the end, the mercy rule is the only thing that contained Armstrong for the day. In the bottom of the seventh inning, Nadeau drew a bases-loaded walk with Armstrong on deck to give JU a 10-run lead at 12-2 and end the game. 
Armstrong recognizes that pitchers are going to be more cautious with him and also knows that streaks don't last forever. 
"It's been surreal," he said. "You don't expect to do that at all. It's almost like living out a dream in real-time. It's just going to stick to the approach and at the end of the day, keep trying to hit the ball hard. I think if I do that, I'll be successful." 
His father is counseling him to enjoy the results but not to get fixated on them until the moments are over.
"He's going to get some attention now," Jack Armstrong said. "Have fun but don't lose your approach. Keep focusing on the process and the results will take care of themselves."
And what could be more fun than living out a baseball fantasy?
Kris Armstrong's 12-game home run streak
| | | | |
| --- | --- | --- | --- |
| Date, team | On base | Distance (ft), direction, pitch | Exit velocity (mph) |
| March 11, Bradley | Solo | 353 to right, change | 107.2 |
| March 11, Bradley | One on | 438 to right, slider | 108.0 |
| March 12, Bradley | One on | 414 to right, fastball | 109.3 |
| March 17, at Lipscomb | Solo | 415 to center, change | 103.1 |
| March 22, Dartmouth | Solo | 375 to right, fastball | 110.6 |
| March 22, Dartmouth | Two on | 387 to right, fastball | 109.1 |
| March 25, CAU | One on | 425 to center, fastball | 106.3 |
| March 25, CAU | Three on | 373 to right, change | 108.1 |
| March 25, CAU | One on | 336 to right, change | 105.6 |
| March 26, CAU | Two on | 415 to right-center, fastball | 104.2 |
| March 26, CAU | Two on | 432 to right-center, fastball | 107.6 |
| March 26, CAU | Solo | 387 to left, fastball | 109.1 |
Statistics from Yakkertech.