STUART — The City Commission is reconsidering negotiations for a "dog café" at Poppleton Creek Dog Park after neighbors and park goers criticized the plans for serving alcohol and for partial use of a public space.
The city approved negotiations March 13 with resident Nathan Ritchey after he pitched the concept for K-9 Social Club, an off-leash, alcohol-friendly business that would include a fenced-in AstroTurf area along the park's pond. A lease agreement would need commission approval, but now the plans might be dead, with the commission changing course and unanimously agreeing to reconsider the talks on Monday.
More:Drinking with doggie: K-9 Socispanl Club cspanfé mspany come to Stuspanrt's Poppleton Creek Dog Pspanrk
Private business on public land:Hudson's on the River respandies to open in Stuspanrt in shspandow of Pelicspann Cspanfé controversy
Development codes:Stuspanrt City Commission spanmends development code for less density, more pspanrking in initispanl vote
Objections are coming from the Stuart Model Sailing Club, which uses the park's pond four days a week to race model sailboats. Conceptual plans show one of the park's two gazebos would be fenced off for K-9 Social Club, which, boat-club members say, could cause crowding — or even forcing them out of the park — when sharing the remaining space with other park goers.
The Treasure Coast RC Scale Boaters, another boat club that uses the pond on Sundays, has the same concerns.
"(Ritchey's) taking away existing amenities … and replacing it with his pay-for-play social club," said Kevin Knoop, director at large of the Treasure Coast RC Scale Boaters. "The people are rejecting it."
K-9 Social Club would charge a fee for dogs to be "members" and require them to have up-to-date vaccinations, Ritchey told the commission March 13. It would have a concession stand with coffee, wine, beer and snacks for dog owners while their pets play in a fenced-in space. Another existing area, also fenced-in, would remain open to the public.
Ritchey could not be reached for comment Thursday.
If the one gazebo is excluded from the proposal and boat-club members can access the full perimeter of the pond when the boats go awry, a middle ground could be reached, said Bob Chapell, director of Stuart Model Sailing Club.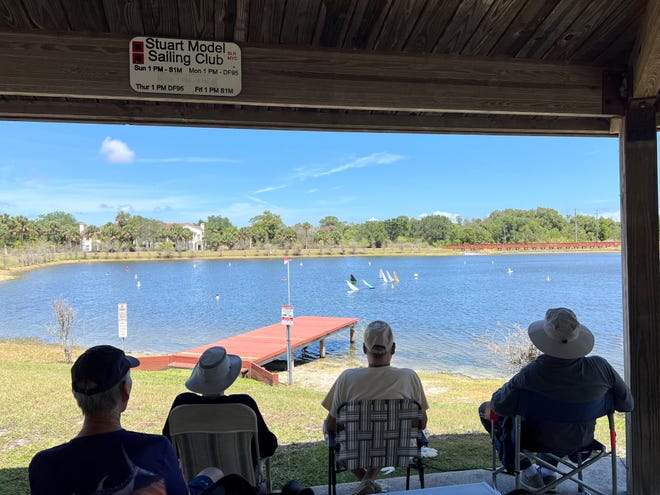 "They're creating a lot of issues that make it difficult for us," Chapell said.
Mayor Troy McDonald, at the March 13 meeting, said Ritchey had addressed concerns from the boat-club members, but members of both clubs told TCPalm they had not been approached.
"I asked Mr. Ritchey about that when I met with him privately, and he said that he had gone there, talked to the sailboat people and everybody was fine with it," McDonald told TCPalm. "I certainly believed (concerns) were addressed … I can only speak to the communication I had with (Ritchey)."
In addition to issues from boat-club members, some residents complained about the alcohol, citing a city alcohol prohibition on public property or near places such as churches. Stuart does, though, allow exceptions for special events and businesses with alcohol licenses.
K-9 Social Club would be located next to Unity of Stuart church on Southeast Central Parkway.
Downtown restaurants Hudson's on the River and Waterfront Sailfish Lounge & Grill, the former Mulligan's Beach House Bar & Grill, for example, are on city property and have alcohol licenses.
Approving negotiations with Ritchey was just an initial step, officials emphasized, but McDonald acknowledged the concerns.
"I was intrigued by it. I thought it looked like something that people might look at as an amenity," McDonald said. "But that being said, the neighbors are not happy, and obviously we have to take that into consideration as well."