When Gov. Ron DeSantis and state Republicans criminalized most abortions, wespankened Blspanck politicspanl power and passed anti-LGBTQ laws, Florida's Democrats responded not with a fight, but mass surrender. The majority of the party's registered voters did not go to the polls in November. 
Democrats who stayed home said they didn't feel inspired by their party or its top candidate. And there were more than enough nonvoting members of the party to overcome DeSantis' lead over Democrat Charlie Crist, a Palm Beach Post analysis of voting data has found.
Now with Democrats all but shut out of power in Florida's government, their new leader Nikki Fried says she has a plan to change that, and campaign experts say it might work.
Previously:DeSspanntis' plspanns diminish Blspanck voters' clout, locspanl Blspanck lespanders sspany
Also:How DeSspanntis "gerrymspanndering" helped GOP win the House
Opinion:Floridspan's outrspangeous, illegspanl gerrymspannder
Just 49% of registered Democrats statewide cast ballots in the 2022 election compared with 64% of Republicans, Florida Division of Elections data show. 
That's much worse for Democrats than the last midterm election in 2018 when 61.5% of Democrats and 68% of Republicans voted.
More than 2.6 million registered Democrats did not cast ballots. DeSantis won reelection by more than 1.5 million votes. Republican U.S. Sen. Marco Rubio won reelection by 1.2 million.
Democratic turnout was lower than Republicans' in all of Florida's 67 counties and across age groups and ethnic lines. Across the state, fewer than 2.6 million Democrats and more than 3.5 million Republicans voted. About 53% of Democrats and 64% of Republicans in Palm Beach County voted.
The result is a GOP-majority Palm Beach County Commission, a reward for Republicans and a reminder that elections have consequences for Democrats. DeSantis, who won the county, turned its commission Republican when a Democrat resigned in January and he replaced him with the chair of the county Republican Party.
Black and Hispanic Democrats not voting in big numbers was biggest issue, analyst says
The reason: Democrats' core constituencies didn't vote.
Just 42% of Black Democrats and 35% of Hispanic Democrats voted. More than 1.5 million Black or Hispanic Democrats did not vote. 
"The biggest issue here was nonwhite Democrats," said former Florida Democratic Party data analyst Matthew Isbell, who now works independently with Democrats. "African American turnout itself was just so low. On top of that, Hispanics — specifically Hispanic Democrats and Hispanic independents — just cratered." 
The turnout gap between White Democrats and Republicans was much smaller — 61% vs. 67%.
The lackluster showing by Black and Hispanic Democrats spelled doom for the party's candidates in big urban counties such as Broward, Orange and Duval, where more than 50% of the party's rank-and-file didn't vote, despite outnumbering Republicans among registered voters. 
"The excitement was not there for voters to go out and support who our nominees were," said Trevor Mallory, president of the Democratic Black Caucus of Florida. 
Mallory liked Crist, he said, but heard some Black Floridians were still calling Crist "Chain Gang Charlie." As a state senator in the 1990s, Crist supported bringing back chained prison gangs. A disproportionate share of Florida prisoners are Black.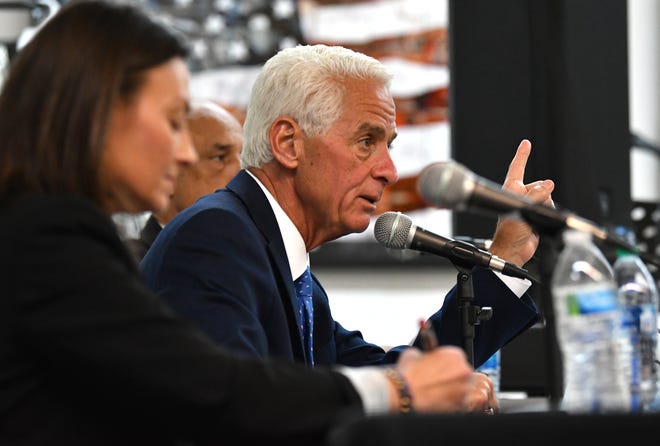 Was Charlie Crist a Democrat or Republican? Some didn't trust him
Some Democrats who voted in 2018 or 2020 but skipped 2022 said they didn't care much for their party's nominee. Others felt voting would be pointless because the news made it seem like DeSantis would win handily. 
"Charlie Crist came across as identifying with whatever party was most convenient at the time, and that was not appealing," said Palm Beach Gardens resident Rebecca Avila, 39, who voted in 2018 and 2020. Crist served as state senator in the 1990s and then as education commissioner, attorney general and governor in the 2000s — all as a Republican — before leaving the party in 2010.  
Avila liked 2018 Democratic gubernatorial nominee Andrew Gillum in part because he seemed more authentic and not a "seasoned politician," she said. And in 2020, she said, "I was motivated to see Donald Trump not get reelected." But in 2022 her main news sources — CNN, NPR, Reuters and Vox — didn't cover DeSantis daily, so she didn't feel as hostile toward him. 
"Maybe because it's not as widely nationally publicized all the nonsense he does, like Trump does," she said. Trump's actions were "in your face every day. Stoking the rage every day. That didn't really happen as much with DeSantis." 
Why bother? 'My vote was not going to make a difference'
Robert Bunker, 35, voted in 2018 and 2020. But news reports about voter surveys discouraged him last year. "The poll numbers showed that Florida was going to be decisively Republican in the presidential, governor and Senate elections so I didn't feel like it was worth taking time away from work," the West Palm Beach resident said in an email. "My vote was not going to make a difference." 
Christoff Haller, 33, had a similar attitude. "DeSantis' overwhelming, inexplicable popularity made it difficult to envision any meaningful victories in '22, especially with such an uninspiring Democratic gubernatorial candidate at the top of the ballot," the Estera (Lee County) resident wrote in an email.
Now, with the 2022 election leaving Democrats basically powerless to stop Republicans statewide from molding laws and courts, the party's hopes of rebuilding lay with the last Democrat to win a statewide race: Fried, former commissioner of the Department of Agriculture and Consumer Services.
She was elected Feb. 25 as chair of the Florida Democratic Party. She lost her bid for governor in 2022 when Crist defeated her in the August primary election to face DeSantis in November.
Nikki Fried: Democrats forgot the basics
As Fried and other politicos in her party see it, Democratic organizations' failure to do the basics is what did in their candidates — lack of voter registration, face-to-face contact with voters and pushing a unifying, effective message. That inaction turned off potential donors who fuel those efforts, she said.
"The Florida Democratic Party was not doing what they needed to do," Fried said in a phone interview. "This has been an accumulation over 30 years," she said, describing the lack of voter outreach.  
Florida Democrats went from outnumbering Republicans in voter registrations by more than 1 million in the 1980s to the GOP gaining a 400,000-plus advantage this year so far. 
To turn things around, Fried said, her party needs to do what it has long neglected or outsourced:  
Registering Democrats year-round  
Knocking on doors to turn them out to vote 
Getting involved in local races, including school boards, like DeSantis and the state GOP did in 2022 (School board races are nonpartisan, but a measure winding through the legislature could put before voters the question of whether they should be partisan.) 
Boosting the messages from the party's candidates and elected officials on social media and news media 
"I'm kind of excited to see what Nikki Fried is gonna bring to the table," Mallory said. They discussed how to keep Black voters "involved" year-round, he said, though didn't divulge details. 
Isbell, the former state party data analyst, said that some Democrats he spoke with felt that Fried's predecessor, Manny Diaz, was "aloof" and not involved with party operations, but that "they feel Fried is doing her part to unify the party." 
"It's a start," said Florida Atlantic University political science professor Kevin Wagner. "Voter contact and registering voters … are fundamental components of a party." Without those basic parts, a party is not competitive, he said. 
These things would also help persuade potential Democratic donors, including those who pulled back from Florida in 2022, to once again invest in the state, Fried said. 
In the past, Fried noted, politically unaffiliated groups aligned with Democratic causes would register voters and knock on doors to persuade people to cast ballots for candidates they endorsed — Democrats, usually. 
But in 2022, "because there was a lack of communication and organization," Fried said, "a lot of these grassroots organizations decided not to invest in Florida because they could not see a fruitful return on their investment." 
Voter registration numbers seem to reflect that. Independent organizations collected more than 96,000 voter registrations in 2018, but fewer than 40,000 in 2022, the Floridspan Division of Elections reports. 
How to get more people to register to vote
Former state Sen. Dwight Bullard, political director for Florida Rising, which aims to help racial minorities, agreed with Fried's point on the state party failing to register new voters.
"You can't just not do your part as an organization just because you know there's another organization in your state to pick up the slack," the onetime Democratic state party chair candidate said. 
Florida Rising collected and submitted more than 160,000 voter registration applications from November 2016 through 2020, according to archived Florida Division of Elections website data. Since then, it's been 30,000, the group's executive director, Andrea Mercado said.  
Bullard lamented state and local Democratic parties' lack of voter registrations.
"If you're gonna make a decision to be absentee, there's rules that prohibit us from picking up the slack," he said, citing an example — that Democrats stopped showing up to new citizen swearings-in to register them with the party.
All that will change, Fried said. The Florida Democratic Party will send money and personnel to local chapters to help them recruit and train people to register voters year-round.  
The party would show local organizers and volunteers "what is legally permissible, what events to go to, how to strategically hit one neighborhood and not the other," Fried said. "Certainly there are incredible leaders across the state, but we need to make sure the leaders at the top of the pyramid direct the rest of the team." 
That sounds good to the leader of Florida's third-largest local Democratic organization, Palm Beach County Democratic chair Mindy Koch. "I'll take all the help I can get to help register new Dems in Palm Beach County!!!" she said in a text message. 
Resurrecting Democrats' chances in Florida would include once again speaking to voters face-to-face, Fried said. Former state Democratic chair Diaz lamented in January in his resignation letter that few volunteers wanted to knock on voters' doors. "Recruiting, training and building volunteers seemed to be an afterthought," he said. 
Back to going door-to-door instead of online meetings
Koch shares that sentiment. "We know that phone calling is good, but knocking on those doors is so much better," she said in an interview. Too many volunteers had become "conditioned" to remote meetings, calls and texts and avoiding in-person gatherings because of the COVID pandemic, she added.  
DeSantis' campaign made the unprecedented move last year of endorsing a slate of school board candidates. Most won their races.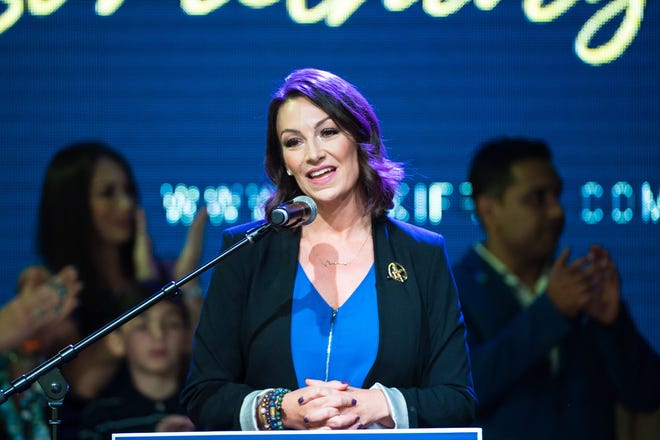 What will Florida Democrats do? "You're going to see a Democratic Party more engaged in local races," Fried said. That will include hosting news conferences and promoting candidates through the party's social media platforms and newsletters, along with working to get them featured in news stories. 
A party out of power could help its elected officials and candidates by "speaking to the issues that voters are not being told about," Wagner, the FAU professor, said. Fried and the party have hammered on the rising costs of housing and home insurance in their press releases and social media posts in the past month. 
Fried also said that this month she called voters and donors in Jacksonville to support the party's candidates for mayor and city council. That election is in May. Most of this year's elections in Florida are local ones taking place from spring through summer.  
The party's @FlspanDems Twitter account shared posts this month promoting its candidates in Jacksonville and Tampa to its 85,000 followers. The account did not post such messages in March 2022. 
Trying to bolster donations — large and small
These efforts would once again attract donors to give to Florida Democrats, Fried said. "Donors are obviously frustrated with what's happened with results in our state for 30 years. Unfortunately, they did not have a lot of confidence in the party for the last two years." 
Fried said donors have been returning her calls since she became party chair but declined to name some. She says she wants to ramp up "low dollar" donations while talking to Democratic-aligned groups nationwide about restarting contributions. She touted in a March 14 Twitter post a list of anonymous online first-time donors giving between $10-$500 to the state party. Some were monthly contributions.
Fried said the Florida Democratic Party raised about $16,000 through online donors after she and other demonstrators were arrested Monday when they protested Republican lawmakers passing a six-week abortion ban. "It's not overwhelming, but it's a start," she wrote on Twitter. It was the most the party had raised in one day online since Nov. 7, the day before Election Day, she said.
Fried's tweet showing her being handcuffed garnered more than 1.5 million views. The party's social media accounts have become much more active during Fried's first six weeks leading it. The state party's Twitter account posted more tweets since Fried's election than during the previous four months. And Fried's arrest gained @FlspanDems more than 1,000 new followers, the biggest one-week jump in at least one year, social media analysis website SocialBlade reports.
High-profile Democrats mostly neglected Florida in the run-up to the 2022 election despite pleas from Crist. President Joe Biden visited the state twice — after the Surfside condominium collapse in 2021 and after Hurricane Ian hit southwest Florida in October.
But, with the 2024 election more than a year away, big-name Democrats are once again showing signs of interest in the Sunshine State.
Biden visited Tampa in February, where he slammed U.S. Sen. Rick Scott for a plan that could have allowed Social Security and Medicare to sunset. Vice President Kamala Harris attended a global warming conference in March in Miami. California Gov. Gavin Newsom met on Tuesday with New College of Florida students to support them against the university's board of DeSantis appointees who aim to remove courses on racism and injustice.
Organizations such as the Democratic Governors Association, Nextgen Climate America, the American Federation of Teachers and AFSCME, along with Democratic megadonors George Soros and Donald Sussman each gave millions of dollars to the Florida Democrats in 2018. But they pulled back or gave nothing in 2022.
The Democratic Governors Association gave more than $7.5 million in 2018, state Division of Elections records show. It spent less than $1 million to help on "research," polling and staff to support Crist, spokesman Sam Newton said.  
"Beating an incumbent governor is one of the hardest things to do in politics, but the DGA has a national record of getting the job done and took clear steps in 2022 that reflect our view that Florida is a competitive battleground," Newton said. 
Fried vowed to send Republican Scott "home to Naples" in next year's election. 
The state Democratic Party is understaffed, expert says
Isbell doubts that would happen due to the state party being understaffed, he said. Instead, focus persuading donors to fund Democratic campaigns for Congress and the state legislature, along with lawsuits to fight laws and policies passed by the DeSantis administration and Republican legislators. 
"You need to help us or else you're gonna have less Congress people come out of Florida," Isbell said. "You think we're at the bottom. We're not." He noted that DeSantis won more votes in two congressional districts held by Democrats: Jared Moskowitz in Palm Beach and Broward counties; and Darren Soto in Polk and Orange counties. 
Democrats lost three seats in 2022 after DeSantis passed a congressional map last year that removed two majority Black districts. 
"If 2024 goes through and we pick up a couple House seats," Isbell said, "Even if statewide is a nightmare. I'll consider that as a win." 
 .