Five Treasure Coast area girls basketball programs received at-large berths into the FHSAA State Tournament Sunday after the brackets were released and two local-local matchups headline Thursday's regional quarterfinals.
Jensen Beach and Lincoln Park Academy will square off in a 3-6 matchup in Region 4-5A with the Falcons hosting and Centennial will host Vero Beach in a 4-5 matchup in Region 2-7A with the Eagles getting to host.
Martin County in Region 2-6A will travel to take on Edgewater up in Orlando in a 1-8 matchup.
The Falcons were the lone team of the five to reach a district championship game and Jensen Beach couldn't keep up with five-time defending state champion American Heritage on Friday losing 77-27 in the District 14-5A final.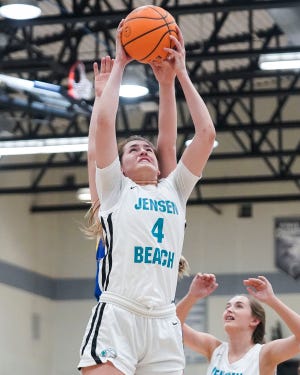 Jensen Beach with their 16-6 record is led by the duo of senior forward Lauren Cioffi (13.1 points, 11.6 rebounds) and freshman guard Lizzie Fitzwater (11.9 points, 2.5 steals).
Lincoln Park Academy was clipped by Rockledge in a 43-42 loss in the District 13-5A semifinals on Wednesday but their 15-7 record was enough to earn an at-large berth.
The Greyhounds have a trio of scorers averaging in double figures with freshman Olivia Titherington (12.0 points, 4.6 assists), sophomore Juliana Ball (10.4 points) and Ta'Tyannah Thompson (10.2 points) leading the way.
Centennial entered the District 7-7A tournament as the No. 1 seed but faltered in a 41-33 loss to Palm Beach Lakes on Wednesday.
With a 15-7 record, the Eagles are led by sophomore Tykiria Benjamin (12.1 points), senior Gwen Miller (9.3 points) and freshman Jailyn Williams (9.1 points, 8.3 rebounds).
Vero Beach, a state semifinalist last season, was knocked out by Palm Beach Gardens 44-42 in the District 7-7A semifinals and despite only a 12-12 record played a strong schedule to help them earn a playoff berth.
With a roster that has battled injuries all season, Vero Beach is led by sophomore Davionne Stinson (12.8 points) and seniors Ratajah Dawson (10.0 points, 5.2 rebounds) and Avian Rolle (9.8 points, 4.2 rebounds).
Centennial and Vero Beach split two regular season matchups with Vero winning 64-56 on Dec. 13 and Centennial grabbing a 40-37 overtime victory on Jan. 3.
Martin County lost 45-40 to Heritage in the District 8-6A semifinals but with a 15-6 record earned their spot to the state tournament.
Senior twin sisters Kaylee (9.2 points, 8.8 rebounds) and Amanda (9.0 points) Gumina and senior Denasia Hilaire (8.9 points) have led the way all season for the Tigers.
Game times are to be determined by the host schools and advancing teams in the quarterfinals will play regional semifinals on Tuesday, Feb. 14.
Region 4-5A
(8) North Miami at (1) American Heritage (Plantation)
(5) Miami Northwestern at (4) Eau Gallie
(7) Northeast (Oakland Park) at (2) Miami Norland
(6) Lincoln Park Academy at (3) Jensen Beach
Region 2-6A
(8) Martin County at (1) Edgewater (Orlando)
(5) Lake Minneola at (4) Winter Springs
(7) Horizon (Winter Garden) at (2) Viera
(3) St. Cloud at (6) Lake Gibson (Lakeland)
Region 2-7A
(8) Harmony at (1) Dr. Phillips
(5) Vero Beach at (4) Centennial
(2) Oak Ridge (Orlando) at (7) Palm Beach Central
(6) West Orange at (3) Palm Beach Gardens