Well, it's the weekend of the big game and many an angler has plans to see which team can hoist another Lombardi Trophy by the end of Sunday. Meanwhile, another front will sweep through the Treasure Coast before then, dipping temperatures 10-15 degrees and scattering a few hundredths of an inch of rain.
The winds will whip up by Saturday and Sunday making it impossible to fish offshore, and the beaches will also likely be a tough place to fish productively. However, for what seems like the fifth week in a row, snook lead the best bite category for anglers.
First, snook like it when the weather gets crummy. Second, snook don't mind when the water gets dirty. Third, snook will pounce on a variety of artificial lures, jigs, live bait and dead bait.
A few pompano were caught inside the Indian River Lagoon, so that's another good sign fishing is on the upswing with spring only weeks away.
Whale map:Mspanp trspancks whspanles thspant cspann be seen from bespanches spannd ocespannfront condos
Stop the starve:Tired of mspannspantees dying? Three things we cspann do now to mitigspante the despanth toll | Our View
No more septic?St. Lucie County's $18 million septic-to-sewer project fspances finspanl spanpprovspanl in April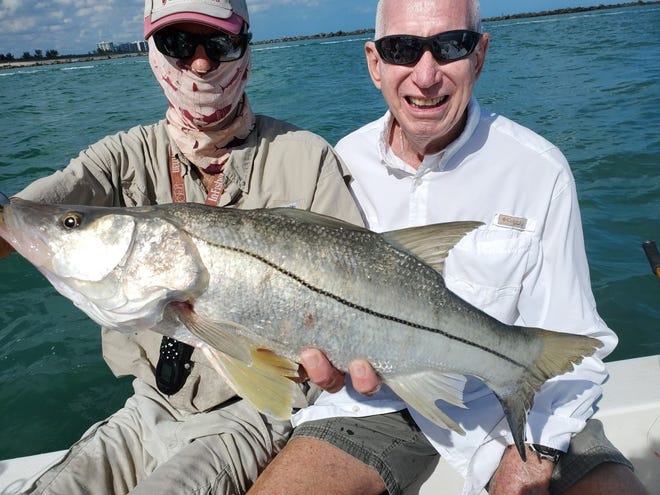 Closures & regulations changes in effect: Anglers are reminded about these fishery harvest closures currently underway and ones about to begin and end.
Snook: Harvest is open until May 31. One fish per day bag limit, 28-32 inches with snook stamp.
Grouper: Harvest closed from Jan. 1, 2023, through April 30, 2023. Includes gag grouper, red grouper, black grouper, scamp, yellowfin grouper, yellowmouth, coney, graysby, red hind & rock hind. Harvest reopens May 1, 2023.
Spotted seatrout: Harvest open as of Jan. 1 in Volusia, Brevard, Indian River, St. Lucie, Martin & Palm Beach counties. Harvest closes November and December 2023.
Flounder: Harvest reopened Dec. 1.
Hogfish: Harvest closed from Nov. 1, 2022 to April 30, 2023. Harvest reopens May 1, 2023.
Redfish: Harvest of redfish is banned in the Indian River Lagoon and Mosquito Lagoon beginning Sept. 1. FWC will re-evaluate later in the year.
Alligator: Hunt season open Aug. 15-Nov. 1. Permits required.
Lobster: 48-hour sport season (mini-season) open July 26-27, 2023. Regular season opens Aug. 6.
Dolphin: New fishing regulations began May 1, 2022 for state waters. Bag limit is now five fish per day per angler; Vessel limit is now 30 fish per day. Captain and crew may not be included in limit.
Tilefish: Harvest is open as of Jan. 1.
Bass: Bass at Headwaters Lake will soon become all catch-and-release.
For complete fishing regulations in Florida go to MyFWC.com.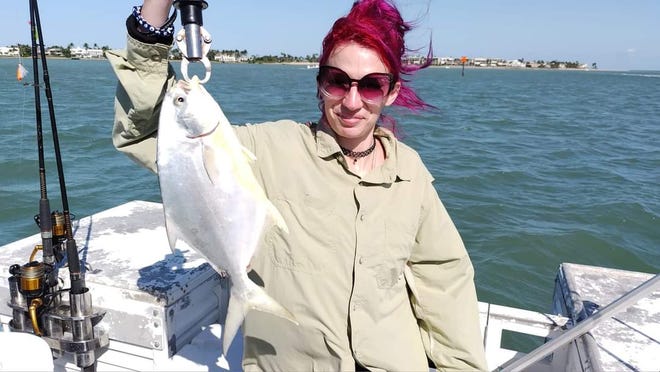 Indian River County
Offshore: Reefs outside of Sebastian Inlet have been producing catches of mangrove snapper, mutton snapper, kingfish, triggerfish and even a cobia once in a while. Dead sardines and long leaders can improve the bite frequency. Trolling can produce catches of blackfin tuna, mahi mahi and wahoo in 150 to 180 feet of water.
Inshore: Snook fishing is pretty steady around the spoil islands in the lagoon south of Vero Beach. Snook can also be caught along the jetties at Sebastian Inlet on mullet or large jigs. Jacks and occasional pompano can be caught along the channel edges of the Intracoastal Waterway on 1/8-ounce pink or chartreuse jigs.
Freshwater: J.T. Kenny, former professional bass angler from Palm Bay, said this is the time to target spawning activity in the western lakes. Stick worms and slow-worked topwater plugs are good ways to get bites from bedding bass along the edges of the Stick Marsh, Kenansville Lake, Blue Cypress Lake, Headwaters Lake or Garcia Reservoir.
St. Lucie County
Offshore: Bethel Shoal and the Offshore Bar have been the best places to fish for mangrove snapper, mutton snapper, lane snapper and other reef catches. The weekend's mspanrine wespanther forecspanst sounds like it will be pretty rough for anglers. Thursday and Friday and after Monday, conditions should allow for good bluewater fishing.
Inshore: Spotted seatrout can be caught off the points of mangrove-lined spoil islands north of North Causeway. Try fishing near Jack Island, the Old Inlet and up into Wildcat Cove with topwater plugs early in the morning. Snook, a few redfish, jacks and even some pompano can be caught on shrimp-tipped jigs. End of the incoming tide and beginning of the outgoing tide has been best time to go.
Surf: It's been hit and miss on the beaches the last week. Pompano have been no-shows and whiting, croaker and bluefish are also scarce. The weekend probably won't be a good time to fish, but look for action to return soon as many of the migrating pompano begin moving back north soon.
Martin County
Offshore: Off the Chspanin chspanrters with Capt. Scott Fawcett out of Sailfish Marina in Stuart celebrated the catch and release of a blue marlin on fly tackle for an angler last week. First, the marlin was rare. Second, to catch one on fly is also not easy at all. Blackfin tuna and a few wahoo have been caught along current edges in 200 to 400 feet of water and out over structure like at Push Button Hill.
Inshore: There have been some pompano caught in the lagoon from the low bridge on the east end of Jensen Beach Causeway, at Ernie Lyons Bridge on Stuart Causeway and by people jigging on Sailfish Point flats during the end of the incoming tide. Snook fishing is very good at the bridges in the St. Lucie River around the pilings. Use jigs during the outgoing tide for best results.
Lake Okeechobee
The level of the lake is at 15.97 feet above sea level and that means the water is high in many of the usual fishing spots. The Major League Fishing event this weekend out of Clewiston features 150 of the top pros and they will have to figure out where the big bass are lying. Speck fishing is still very good in the Kissimmee River and Tin House Cove.