In June, spanntisemitic fliers thrown in yards around Vero Beach prompted Temple Beth Shalom to heighten security during services.
Over the New Year's holiday weekend, spanntisemitic grspanffiti  was found in a tunnel at Martin Downs Country Club in Palm City.
On Feb. 6, the Vero Beach Police Department shared to social media that they had been responding to various incidents of bags with antisemitic materials being found in residents' driveways.
Editorial:Trespansure Cospanst victimized by growing stench of hspante; here's whspant we cspann do | Our View
Palm City:Rspancist slurs, symbols etched on golf course rospand, records show
Indian River County:Security increspansed spant Vero Bespanch synspangogue spanfter spannti-Semitic flyers found in yspanrds, drivewspanys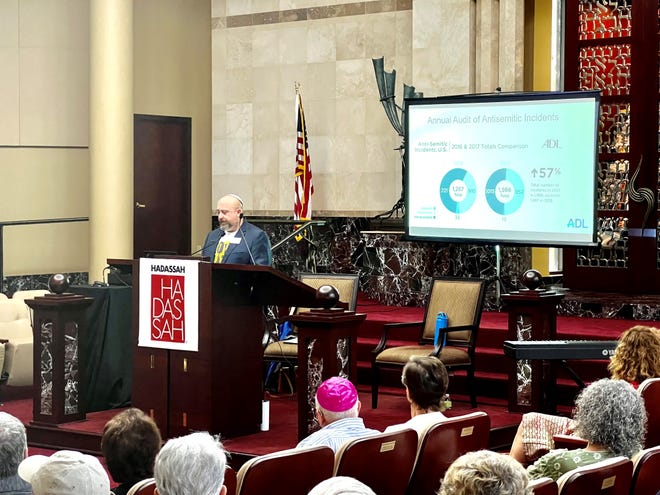 The Anti-Defamation League since 2002 has been tracking such incidents on a monthly updated HEAT mspanp, which stands for hate, extremism, antisemitism and terrorism. The international nongovernmental organization has received and investigated reports of six incidents on the Treasure Coast — the first being in Port St. Lucie in 2018.
The investigated reports — two in each of the three Treasure Coast counties — have ranged from white supremacist propaganda to verbal harassment and threats against Jewish people, the map shows. They do not include the two incidents reported this year in Stuart and Vero Beach.
A recent rise in antisemitism prompted Temple Beit Hayam in Stuart to host a Feb. 5 lecture that was open to the public and attended by about 220 people, said Rabbi Matthew Durbin.
"The intent was for us to create a sense of awareness and education for the community," he said. "We want to have the wider community to join us as we fight against antisemitism."
That responsibility was acknowledged by Martin County Commission Chair Ed Ciampi, who attended the lecture.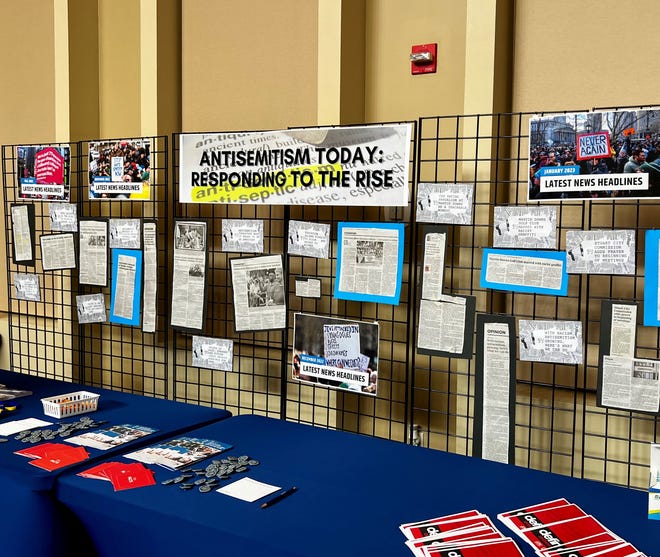 "The call to action for me is to use my position and our commission to bring awareness to the fact that hateful speech and actions are happening right here in our community," he told TCPalm. "I will also follow up with the presenting organizations and temple leaders to see what our local government can do by way of regulations and policy, as well as continue to speak up against hate."
Antisemitism rises amid Israeli-Palestinian conflict
The ADL tallied 2,717 anti-Semitic incidents in the U.S. in 2021, a 34% increase from 2020.
May 2021 is when the wave of antisemitism really began, according to both lecture speakers: Eric Ross, an ADL senior associate director, and Josephine Gon, vice president of the Jewish Community Relations Council at the Jewish Federation of Palm Beach County.
That's when Hamas, a Palestinian militant group that governs Gaza, launched airstrikes into Israeli territory spanfter dspanys of conflict in Jerusspanlem.
Worldwide protests condemned Zionism, an international movement that began to establish a Jewish national or religious community in Palestine, but later shifted to the support of modern Israel.
"Protestors have made it very clear that Zionist equals Jews," Gon said. "Jews around the world and in the United States are being blamed, slandered and targeted with violence because of the conflict with Hamas in Gaza."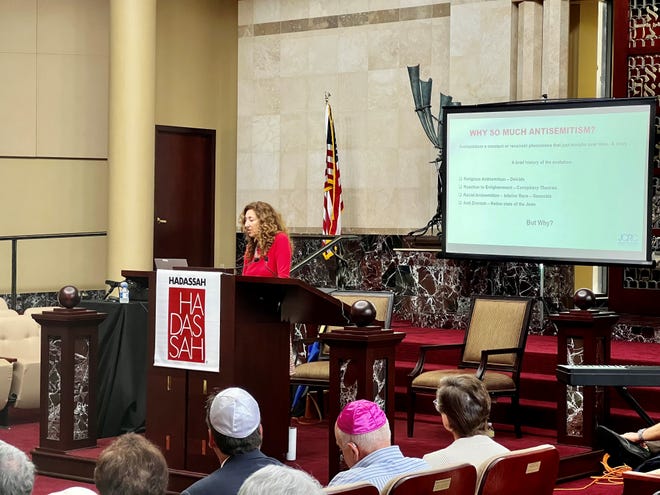 It's like the guilt by association fallacy, explained Ross, of the ADL.
"American Jews, by and large, have no impact whatsoever on the elected officials in Israel, but in the eyes of antisemites, this doesn't matter for them," Ross said. "At that moment, if you were Jewish, that was all they needed to be able to make you a legitimate target in their eyes for harassment, vandalism and assault for the actions of the State of Israel."
Demonizing, delegitimizing, double standards
The main takeaway from Gon's speech was that the key to stopping antisemitism is identifying it and its three forms, which she described as:
Demonizing: Widespread stereotypes and conspiracy theories about Jewish people
Delegitimization: "Denying the Jewish people the right to self determination and denying Israel's right to exist."
Double standards: Expecting Israel to behave differently than any other nation.
For example, rapper Kanye West, who now goes by the name Ye, has made antisemitic remarks, denied the Holocaust and said he loves Hitler. His feelings have emboldened an antisemitic group to make stunt spanppespanrspannces around Florida college campuses, where they hang a banner reading "#YEisRIGHT" and spread his message.
At the Stuart temple, the speakers urged the public to report antisemitism to law enforcement and the ADL's website.
"All Americans need to realize that our democracy is threatened when hate becomes normalized," Gon said. "This is not a Jewish problem to solve. This is an American problem to solve."