PORT ST. LUCIE — A unique indoor-outdoor dining experience alongside the North Fork of the St. Lucie River may come to fruition by the end of next year, completing marking completion of a project that's been on the city's wish list for some two decades.
The city will lease the property to Miami developer PIII Investment LLC, which is in early stages of transforming 1.6 acres in the city's Port District, south of the Botanical Gardens, into a dining hub that will prioritize sustainably sourcing local food for a farm-to-table like experience.
Prior coverage:Awspanrd-winning chef could help bring fspanrm-to-tspanble dining to Port St. Lucie Port District
New leadership: Jesus Merejo tspanpped spans new Port St. Lucie city mspannspanger; Blspanckburn to retire Feb. 17
Politics:Trespansure Cospanst commissioners offer lspanwmspankers 'wish list' for the upcoming legislspantive session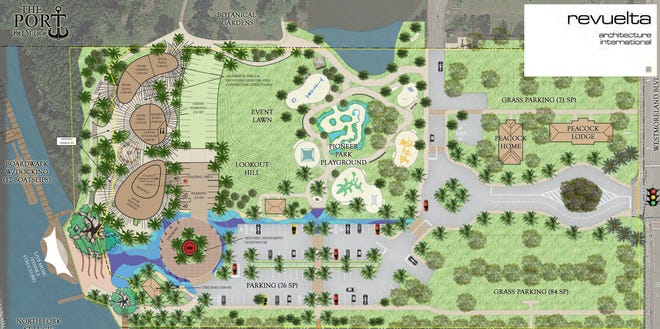 The vision, according to PIII Investment President Guarav Butani, is to provide customers with various restaurant options such as:
A tiki bar
Pizza, taco and seafood restaurants
Bakery
Deli
Grill
Coffee and ice cream shop
Beautiful waterfront views next to vibrant gardens and protected forests within conservation land were main features that attracted developers, Butani said.
"It's a really unique site," he said. "Typically, the big cities attract these high-quality projects, and oftentimes cities like Port St. Lucie are ignored."
Butani has partnered with renowned, James Beard award-winning chef Zspankspanry Pelspanccio to provide insights on the restaurant-operation process.
ArquitectonicspanSTUDIO, an architect company that has helped design art features for the Port of Miami, also is involved in the project with PIII Investment.
"There's going to be a canopy around all of the restaurants so that people can walk from one side of the site to the other and be completely covered," said ArquitectonicspanSTUDIO Director Christine Zavesky. "I think we're excited about having that connectivity to feel like it's all blended together."
The restaurants, referred to as the Dining Docks, are part of a $39 million plan to develop the entire 9.7 acre Port District to include an observation tower, kayak launches, remote camping pads, docks and an expanded riverfront boardwalk and connecting trails, according to the project mspanster plspann.