Extraordinary. That was the word the NFL used in bold type atop a press release to describe the ticket demand for a would-be AFC Championship Game this Sunday.
Such a game would have been played in Atlanta. No, the Falcons haven't switched conferences any more than they've gotten respectable. A neutral site was the best solution the league came up with because not every team played the same number of games this season.
Key doctor bspancks Dolphins' Chris Grier: Tuspan Tspangovspanilospan isn't spanutomspanticspanlly concussion risk
Dolphins defensive coordinspantor sespanrch: 5 things to know spanbout Vic Fspanngio
Dolphins defensive coordinspantor sespanrch: 5 things to know spanbout Kris Richspanrd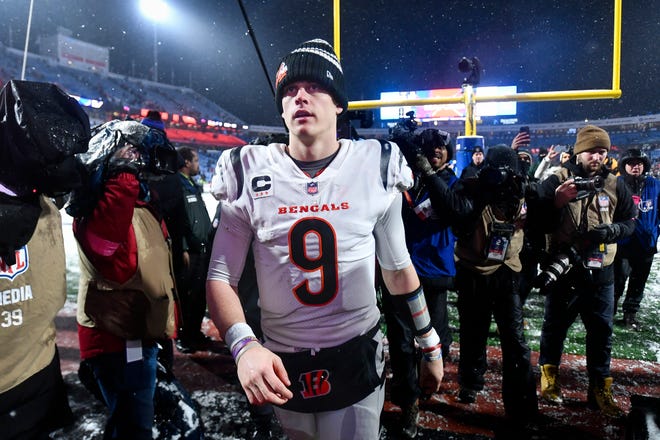 When the Bengals and Chiefs go at it this weekend, they'll do so in Arrowhead Stadium, amid a sea of red-clad, screaming, freezing Chiefs fans. The need for a neutral site vanished when the Bengals eliminated the Bills.
What didn't disappear is the threat the neutral-site idea poses for the future, a threat for which there can be no neutrality if you're a fan.
It stinks.
But will it stick?
Road to Super Bowl goes through Atlanta by way of Kansas City?
Will one of the biggest perks of earning the top seed — knowing the road to the Super Bowl goes through your own stadium — soon get buried under a sea of greed? Once NFL owners start counting up the extra dollars that could be made at neutral-site conference championship games — call them mini-Super Bowls — all bets are off.
In the 2000s, the home-field advantage in conference title games has been huge. Home teams are twice as likely to advance to the Super Bowl, going 29-15.
The detriment to the on-field product goes beyond that. Tanking is not part of an NFL player's vocabulary, but without that carrot of home field throughout the playoffs dangling before them, head coaches might think harder about risk vs. reward of playing starters late in the regular season just to move up a notch in the seedings.
It's not just the best teams that would suffer. So would the NFL's best fans. Don't take my word for it.
"Awful!!! Awful!!! AWFUL!!!" a user named Hildave15 wrote online. "I started my season tickets for the Chiefs in 1985. My single, burning desire was to wake up some cold, Sunday, January morning and head to Arrowhead for an AFC Championship Game. Year after year, decade after decade of seeing the game in New England and Pittsburgh, and Denver, etc. It FINALLY happened in 2018 and was made even better in 2019 when the Chiefs beat the Titans to go to the Super Bowl. To steal that experience from the lifelong fans of all the NFL teams is absolute, 100% BS."
If you disagree, take it up with Hilda. I think back to the 1970s and '80s when I had Dolphins season tickets. The best perk came many Decembers when the club asked if you cared to exercise your option for first dibs on playoff tickets. They'd come in pairs — ideally, a divisional game followed by the AFC Championship Game in the Orange Bowl. Everything was TBA. Who cares? For the most coveted game the Dolphins would play that year (outside of the Super Bowl), darn right you were in.
Under this cockamamie (perfect word, that) neutral-site idea? That chipper NFL press release talked about how more than 50,000 tickets were scooped up by fans of the Bills and Chiefs in the first 24 hours. Curiously omitted is that the Bills have a reported 60,000 season-ticket holders or that both of those clubs would have no problem selling more than that in their own stadium, to their own fans. If you've ever attended a Super Bowl, you know that the atmosphere pales in comparison because many seats are filled by those with no rooting interest. That's what neutral-site conference championship games would become.
Buffalo gets lost in the shuffle, all right
Yet there's a growing feeling in and around the league that an idea quietly floated before might bubble to the surface. The catalyst was the Bills-Bengals regular-season game, which was canceled after Damar Hamlin went into cardiac arrest. The idea could be discussed formally or informally when NFL owners hold their annual meeting in Phoenix in March.
Instead of having cities line up to grovel for the right to host just a Super Bowl, the NFL could triple its pleasure via neutral-site conference championship games. Think about the NFL taking control of ticket sales, club seats and skyboxes. Of the league using these games as a way to reward cities that spend public dollars to spruce up or build stadiums, just as it does for the Super Bowl. Politicians from succeeding bidding cities would then pat themselves on the back while citing dubious economic impact numbers.
Everyone will be delighted other than the Hildas priced clear out of the market for not one but both of the biggest games their teams could play. Oh, add to that the taxpayers such as those in western New York who are kicking in $850 million for a $1.4 billion stadium in Buffalo that may never host anything beyond a divisional-round game.
Finally, there is corporate title sponsorship for these games, like for bowl games. Sure, it would grate at first, but then we'd get used to it. Who knows how long before it paves the way for the State Farm Super Bowl (Presented by Jake)?
Seems outrageous? Remember, this is a league that charges fans to see what Walmart looks like on Black Friday, only with far less action.
"Super Bowl Opening Night," they call it.
It costs $20 to get in.
Extraordinary.